What is Warhammer? FAQ for Beginners
May 25, 2022
WARHAMMER: An intro for newbies
So you want to know more about Warhammer - but you're not sure where to start. Well, I'm here to help, because up until I started selling these products last year I had absolutely no idea how to tell Age of Sigmar apart from the Horus Heresy. And how is the Black Library related to all this stuff anyway?
Warhammer is a tabletop war game designed for two or more players (it's not a computer game; you play at a table with your friends). It's also a grimdark book series. It's also a line of miniature sci-fi models, which you can paint to your own taste (or leave undecorated). The entire thing is set in a fictional postapocalypic universe 40,000 years in our future. Within this universe there are various lines, such as Age of Sigmar (fantasy themed) or Underworlds (horror themed). Since you dont need computers or internet to play, Warhammer can be a really fun activity for "unplugged" nights with family and friends.
The hobby revolves around tabletop gaming, but you can participate without ever playing! This is a universe truly suited to all types of fans (whether you prefer to build scenery or read a book). The game developers like to say there are "Four Pillars of Warhammer" (Collect, Build, Paint, Play) and personally, I like to include the fifth one: Read!
The cool thing about this universe is that you can do as much or as little in each of these "pillars" as you like. Some people just read the books and have never owned a single piece of the game; others focus entirely on building and painting the miniatures, while some fans put all their energy into planning games with their friends. It really is a customizable fandom.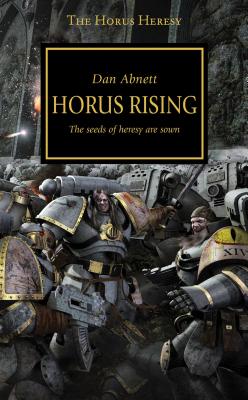 Since I am, after all, a bookseller, I'll start here. The Black Library contains numerous novels set in the Warhammer universe (The Horus Heresy is probably the series I've been asked for most often over the years). These are not your grandfather's game tie-in novels; beautifully bound (some even have sprayed page edges) with rich, detailed cover art, these titles explore the far reaches of some impressive world-building. The detailed stories and compelling characters ensure that readers can enjoy Warhammer just as much as gamers do.
You'll see two types of Warhammer books: the novels, and the RPG tabletop game manuals (which contain rules for gameplay - similar to how Dungeons & Dragons manuals work). Although you can read Warhammer stories without ever owning a model, you cannot play Warhammer without ever owning a book - you'll need the appropriate manual (depending on your genre, special characters, and army choices).
For most players, the primary goal of collecting Warhammer models is to create a personalized "army" which are used during gameplay. Remember being a kid and fighting over who gets to use which Monopoly figure, even though the figures have absolutely no impact on your likelihood of winning? Well, in Warhammer, the models in your army very much DO have an impact on your strategy and gameplay.
Many Warhammer models require glue and clippers to assemble, but there are some which are "click" assembly. These "EZ to Build" models are always labeled clearly so you can tell before you purchase if you need glue for a particular model, or not. Warhammer models have a lot of small pieces, so they're not for children; but if you have a young adult who is learning to build models (under adult supervision), the "EZ to Build" ones are a great place to start. After you build your models, you will use them to assemble your "army." It is complex, but the basic concept is still the same as board games you played as a child: the models mark your place in the game as you move around and interact with your fellow players. Just like the monopoly top hat. Only... cooler. A lot cooler.
Now, you don't actually have to paint your models to play the game. But there is a long-standing tradition of gently teasing players who show up with "naked" (unpainted) armies. Plus, this part is fun! Games Workshop manufactures all the specialty paints, brushes and tools you need to create artistic and beautiful war machines... um... well, you know what I mean.
My first thought when I learned about individualized armies in Warhammer was: how do they make this game fair? Wouldn't "the player who spent the most" just win because they have the biggest army? It turns out the solution for that is that when you set up your game, the players agree to certain terms with respect to the size of the armies. Each model is "worth" a certain number of points and you simply add up your army components until you have a fair match. For instance, you may prefer to have dozens of foot soldiers to flood the battlefield - or you may prefer to use all your "army points" on bringing a large war machine to the table. As long as the players have an evenly matched army size / distribution, the rest is up to the individual.
Once the armies are set up (which can take a really long time, I'll be honest) gameplay proceeds according to the standards set by the rulebooks. Special models might have special powers, which means you need their specific rulebook (Be'Lakor is one of these). But for the most part, you'll be in good shape if you have your core manuals handy.
Buying for someone else? We offer hand-lettered, wax-sealed gift certificates (in any denomination) that can be used on Warhammer (or any other products in the bookshop of course!). If you'd like to gift a Warhammer fan, let me know when you order the gift certificate, because I can make it Warhammer themed!
Everyone: check out the intro magazines: Getting Started with Warhammer 40,000 (which is more of a sci-fi style) or Getting Started with Age of Sigmar (which is the fantasy themed version). They're $15 each, which makes them a great way to get a feel for the universe without spending a huge amount of money.
Readers: start with Nightbringer (first in the Ultramarines series) by Graham McNeill or Horus Rising (first in the Horus Heresy series). If you're looking for something more fantasyish, try Thunderstrike and other Stories.
Gamers: If you plan on "building an army," get started for under $100 with either of these packages (which will give you everything you need for 2 people to play):
Play Warhammer 40,000 for $85:
Play Warhammer Age of Sigmar for $92.50:
Another option is to pick up one of the self-contained box sets like Underworlds or Kill Team. Each of those is a two-player game which takes around 30 minutes to play. (Well. That's what the box says. In my experience, these things take longer when you're having fun with your friends.) Other stand alone box games include Direchasm (now out of print, but we still have some in stock), Underworlds: Harrowdeep, Warcry (AoS), Necromunda, Blood Bowl, Aeronautica Imperialis.
Collectors, builders and painters: both Warhammer 40,000 and Age of Sigmar have starter sets that contain Paints + Tools to get you painting immediately without worrying too much about lore or gameplay rules. To get started, you will need:
Model Kit (some kits include paints, brush and cutters - some do not)

Paints, if not included in the kit (your kit should have color suggestions on the box)
Cutters, if not included in the kit
Brushes (we carry three sizes: Small Base, Small Layer, & Medium Layer but you can order others from us)

Chaos Black Spray Paint (to use as a primer)
Plastic Glue (if your kit is not labeled "Easy To Build")
If you'd like to start building as simply as possible, look for models labeled "Easy To Build" as these generally click together (meaning they don't require glue).
Trying to decide between Warhammer 40,000 (which is more sci fi) vs Age of Sigmar (the fantasy line)? My strong suggestion here is to check in with your Warhammer buddies. It's a lot easier to play together if your armies are from the same line, so you may want to go ahead and invest in the same one that your friends are playing.
Speaking of Warhammer buddies, the most frequent question people ask me at the store is "How can I meet other warhammer fans?" Of course my first response is - why are you asking a reclusive bookseller with no social life for advice on meeting people?!! But in all seriousness, this is a great question. I know that a lot of game clans meet online (through things like facebook), but we're also working on setting up a series of events at Sandman where nerds of like minds can mingle and hang out. Once we have some firm plans, I'll be sure to post it on our calendar (as well as our facebook page). We do have the space to host a game in the shop, and I'm open to doing that - but we don't have the staff for it right now. (If that's something you're interested in helping with, let me know.) In the meantime, check out our Warhammer stock and see what you think!